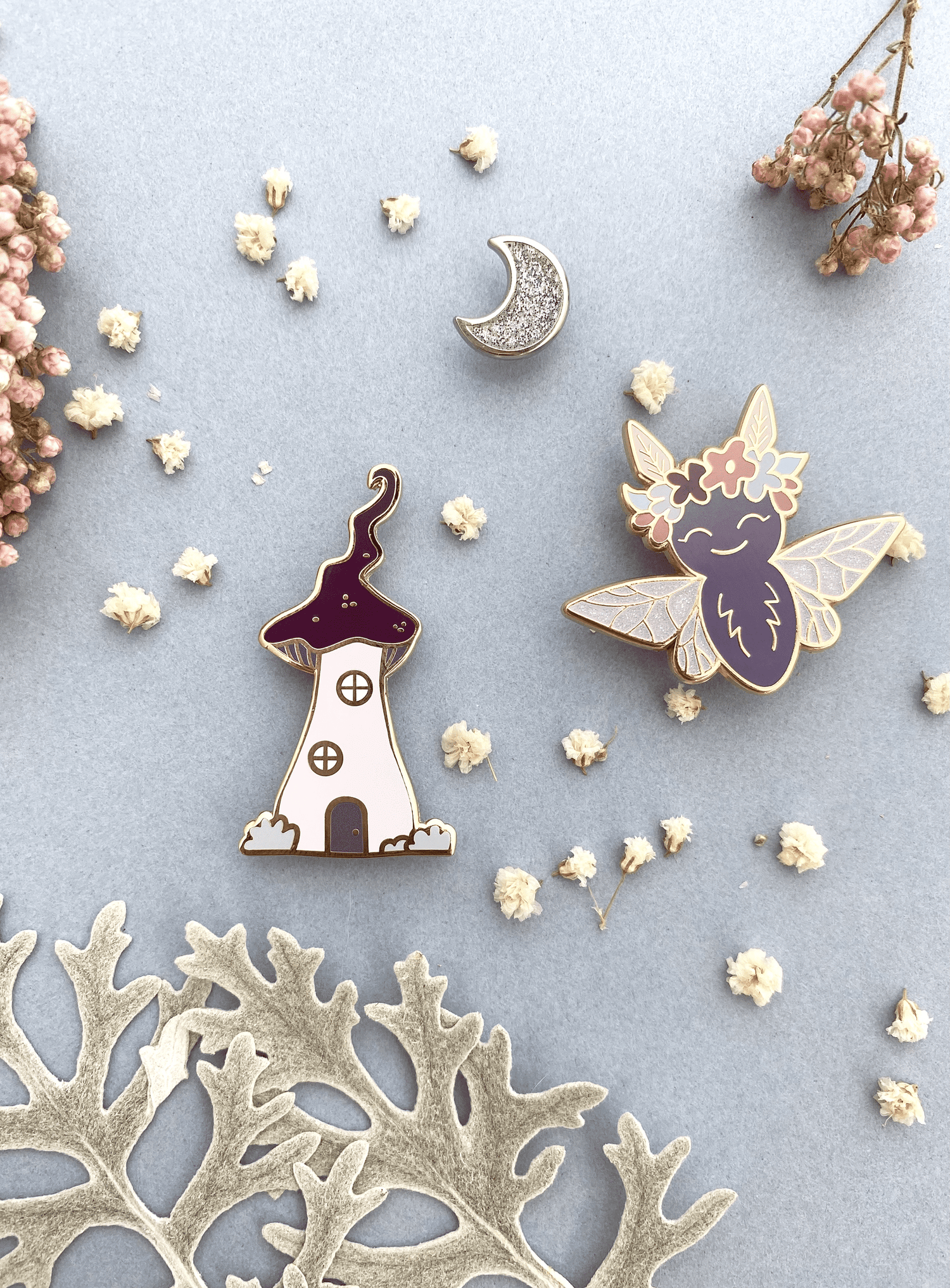 Winter fantasy pins
In a calm winter scene, pastels are the vibe. A cute moth fairy friend to add to your collection, the slightly evil mushroom house which may contain a wizard, and the bright glittery crescent moon a classic in the long nights.
Browse Winter Pins
Trinkets, bobbles, and shinies
Are you a collector of enamel pins or whimsical broaches? Do you enjoy hoarding small works of art with a sticky back (that you never actually stick on anything)? Luckily for you, you can find fairies, mushrooms houses, and other small elements of nature in multiple forms.
You are my sunshine
Whether you are a bright ray of sunshine, or you have someone in your life who is your light, the mini sun enamel pin with gold glitter is sure to brighten anyone's day.
Buy Bottled Sunshine
Subscribe for updates

I've opted to not be in your face but I'd like to be in your inbox! It's a great way for me to connect with you, share my latest products you may be interested in, or let you know how to purchase from me in person. You may even receive a coupon now and then. What do you say? Sign up to get all these goodies in your email.

Sign up

Designed in Austin, TX

As a creator of fantasy themed goods, I get a lot of inspiration from attending renaissance festivals. With that inspiration, I use my business values of creativity and independence to create amazing designs for you to wear or use. To learn more about myself and my small business, read a snippet from the founder.

Welcome from the founder
Process photos to inspire
If you're the kind of person who spends a lot of time on your phone and loves beautiful or inspiring images, then following me on social media would be a delightful way to continuously scroll through content. I post primarily on instagram to share all the craft projects I'm working on, behind the scenes content, mini tutorials, and any new product releases or sales.
Follow on Instagram